Areola Restoration & 3D Nipple Tattooing
Vicki Hansen did her first areola tattoo in 1992, shortly after she completed her training. With very little training available and minimal color options, every color was mixed by hand to get that perfect pink/brown beige color. As the saying goes, "we've come a long way baby!"
With huge strides in the medical community, holistic health practices, and better cancer screenings Breast Cancer still effects 1 in 9 women. Breast cancer has touched the lives of 1 in 3 people. Many of us have stood side by side while friends and loved ones have undergone a mastectomy to remove cancer from their bodies.
These survivors are amazing, strong women!! Unfortunately after their surgeries, chemotherapy, hair loss, rebuilding, remaking, etc. some of these amazing women are left struggling with body image.
The nipple/areola is a defining characteristic of the breast and a natural focal point for the eye. Without this detail, often the patient focus is on the scars. Recreating a more natural appearance after breast reconstruction, requires experience with the skin and an artistic eye for color and detail.   To help these patients recover a sense of normalcy, reconstructive surgeons are turning to artists, like Vicki Hansen who specialize in the recreation of the areola. Rather the clients choose to forgo additional surgery or choose to have a nipple graft, adding a realistic color to the breast creates a sense of restoration. The 3D nipple tattoo, uses shadows and highlights to create texture, restoring a sense of depth and detail to the reconstructed breast.
Many plastic surgeons offices provide a nurse or esthetician to tattoo after reconstruction. Often, the lack of training in tattoo techniques leaves the patient unhappy with the results. Currently, many physicians have chosen to send the patient to an artist with years of experience with the process.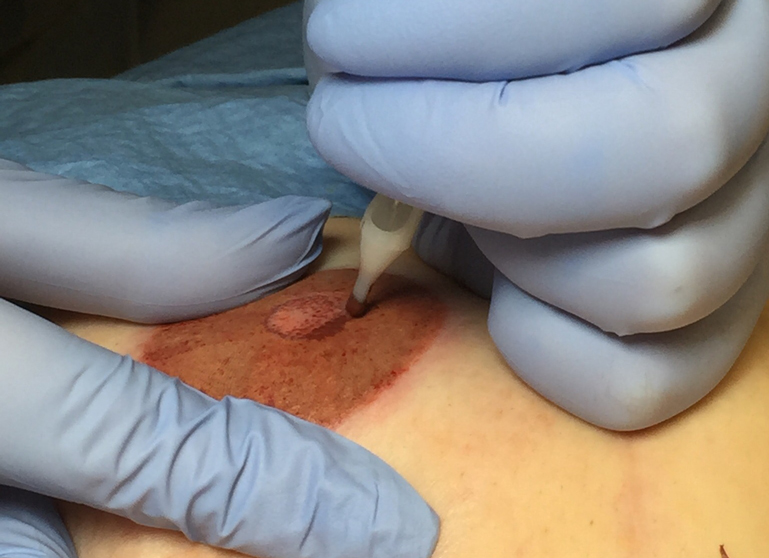 THE PROCESS
When you come into the office, it doesn't matter if you have old work that needs a color boost, color  correction or you are a fresh canvas ready for color. You and Vicki will decide the best options together. During the color audition, you will also discuss areola. Vicki never uses only one color but layers color to create a realistic result. Reconstructed nipples or not, we will focus on shape, highlights and shadows. You may choose the addition of Montgomery bumps or not. If you have a pre-mastectomy photo, you may bring it to help recreate your original look, if you want. This is a time you can have it the way you want. If you want brown areolas, light pink areolas, smaller, larger, etc. Vicki always asks questions to understand your desired look.
DAY OF THE PROCEDURE
Make sure you have had a good breakfast or lunch. It's important for you to be comfortable and relaxed. Wear a loose sports bra and a 2 piece outfit. I will provide a disposable robe but you might be more comfortable with your jeans or slacks on to keep you warm. Although there usually is no pain, I will provide a topical anesthetic, if necessary. I want you comfortable. If you have a list of prescription medicines, please be ready to provide the list for your consent paperwork. I will provide you with your post procedure care and a few non-stick gauze pads to get started.
AFTER YOU HEAL
If we choose to follow up and do a little perfecting, there is no charge for that. I like to wait 8 weeks for the skin to recover from the original procedure.